Protect yourself.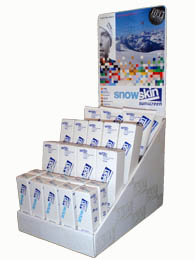 UVA/UVB broad spectrum
paraben free


When the sun's reflections are absolutely relentless, Snowskin sunscreen offers total protection from the elements. Always PABA & Paraben free, Snowskin provides broad spectrum UVA/UVB protection in a wide range of applications: sunscreen lotion, spf 30+ lip balm, hands-free sunscreen stick, and zinc.
The complete range of Snowskin products have undergone extensive testing and are all rated SPF 30+ or higher as designated by the strict AUS/NZ Standard - an even higher standard than the FDA designation. We've worked hard to formulate a product that performs, retaining complete SPF protection and water/sweat resistance, even after two hours of intense perspiration. Whether you're up on the hill or deep in the trees, you can be confident that Snowskin has you covered.
Winter sports enthusiasts are at an increased risk for overexposure to the sun's UV rays. The combination of higher altitude and UV rays reflected by the snow puts us at a disadvantage when it comes to sun damage, and ultimately skin cancer. UV exposure increases about 8% for every 1,000 feet above sea level. Snow also reflects up to 80% of the UV rays from the sun, so you could be hit by those rays twice! Apply Snowskin sunscreen products 15 - 30 minutes prior to venturing outdoors. For total protection, you just can't go past our flesh coloured zinc stick. It's great for those bluebird days when the sun is absolutely relentless and you're out in the vast open spaces without any shade in sight.
All of our products are tested and proven in New Zealand, home of the highest rate of skin cancer per capita in the world -which comes as a shock to many. Kiwis know sunscreen!
Skin Alive Sunscreen customer information is available here.