Welcome to
Snowskin

.

Snowskin, the SPF30+ ultra-performance sunscreen from New Zealand, specifically developed for use in extreme alpine conditions.

When the sun's reflections are absolutely relentless, Snowskin offers total UVA/UVB broad spectrum protection from the elements. No matter how much you sweat, its non-greasy, very water resistant and very sweat resistant formula won't run into your eyes, leaving you free to focus on what really matters.

Paraben free, PABA free, and nanoparticle free Snowskin powerfully nourishes your skin with moisturizing Aloe Vera and world-renowned UMF 18+ Manuka Honey. Unique to New Zealand and touted for it's remarkable anti-bacterial and antioxidant benefits, Manuka Honey assists the body's ability to hydrate and improves skin conditions in even the harshest of environments. It can even help treat acne - seriously!

The team at Snowskin is dedicated to ensuring that people have access to quality skin protection when out in full view of the sun's harmful rays. All of our products are proudly tested and proven in New Zealand, home of the highest rate of skin cancer per capita in the world -which comes as a shock to many people. Backed by a team of serious International Athletes, Snowskin is driven to educate this generation about the dangers of unprotected sun exposure, and how better to safeguard yourself, your mates, and your family for life. Snowskin helps to keep your "Skin Alive".

Tested on snowboarders and skiers, not animals!

To order Snowskin visit our

---
View our sister brands:

News:
Snowskin's Facebook Trivia Challenge! - We're suckers for giveaways! We wanted to make it super easy for you to win some sweet as swag from the team at Snowskin - so the answer to today's Facebook Challenge will be posted here this afternoon. Pushovers? Yep. Only because we love you.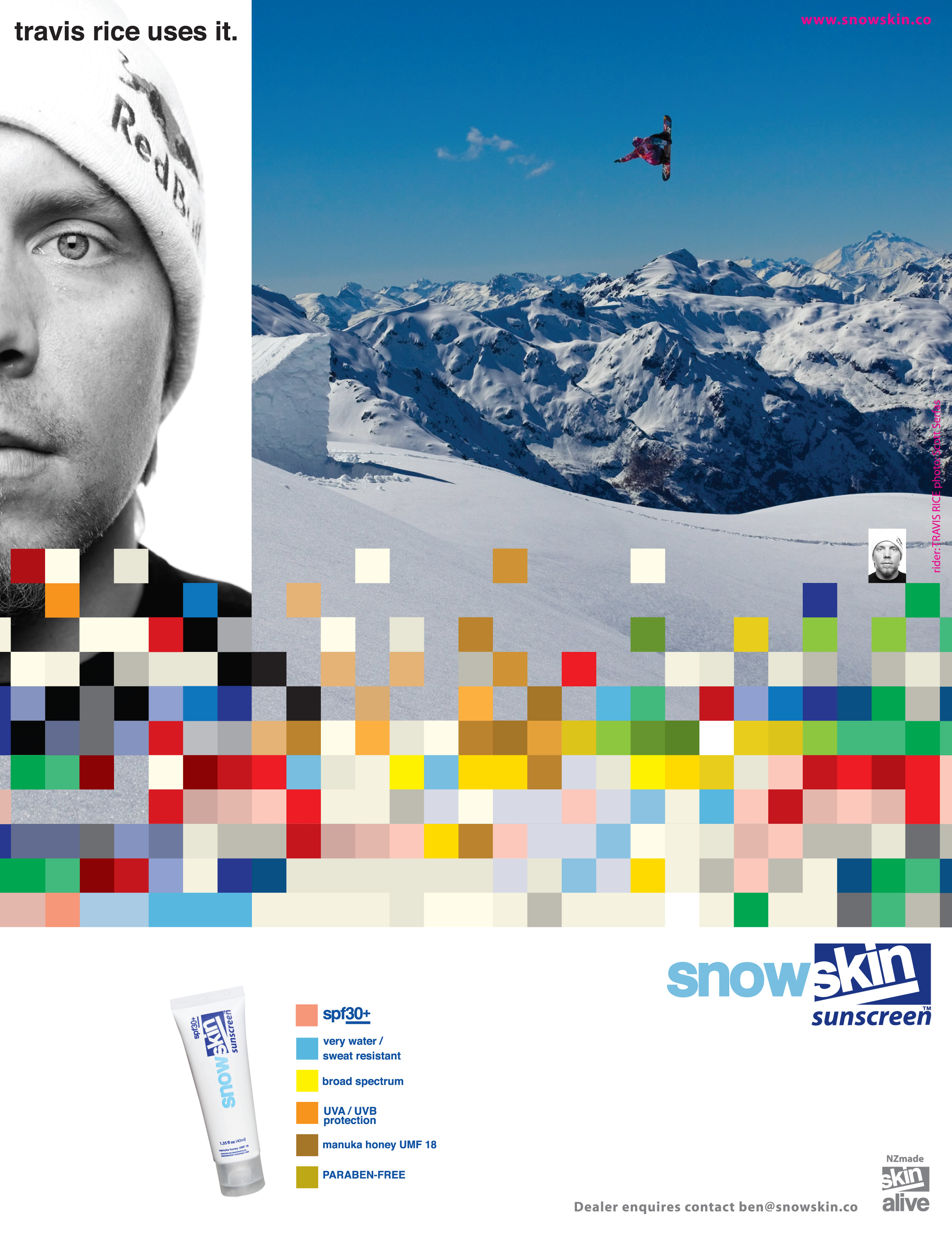 Welcome to the team, Travis! - We couldn't possibly be any more stoked that 'Big Mountain Revolutionary' Travis Rice has stepped up to represent Snowskin - Legend! Check out Travis' new film "The Art Of Flight" dropping this fall. While you're at it, go ahead, follow him on Twitter @TravRice and you just might get free entry to the premier! -
On Home Turf - World Heli Challenge: - The World Heli Challenge 2011 is quickly approaching, and Snowskin is excited to be part of the action! Legendary competitors, legendary terrain, and legendary skin protection - a surefire recipe for awesomeness.
WWW.snowskin.co launched for USA distribution! January 2011 - We've taken our sweet time developing the product and now it's time to share it with the world at SIA in Denver, Colorado. Stop by the booth and say hi to our team state-side!
Snowskin is stoked to sponsor the New Zealand Alpine Ski Team - Check them out at skiracing.org.nz and get involved!
Snowskin supplies sunscreen to each competitor in the Burton Open 2010: May 2010 - This 5 Star Event on the Swatch TTR World Snowboard Tour took place at our very own Cardrona Alpine Resort in Wanaka, NZ. Represent!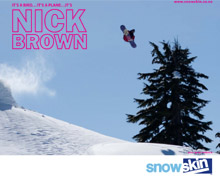 Nick Brown uses it! May 2009 - Only the best use the best, and that's why we are proud to announce the launch of Snowskin fronted by New Zealand's own Nick Brown. The team wish Nick all the best for his up and coming 2009-10 season here and abroad!
Contact Us:
e: sales@snowskin.co